Facemasks
Virginia now requires individuals age five and older to wear a cloth face covering that covers the mouth and nose when in indoor public settings. Face coverings should not be put on children under the age of three or used by people who have trouble breathing, are incapacitated, or who are otherwise unable to remove the face covering without help. There are a number of situations in which people don't have to wear a cloth face covering while using indoor public spaces. These include:
While eating or drinking
While exercising or using exercise equipment
Anyone who has a breathing problem or health issue that would put their health at risk by wearing a cloth face covering
Anyone communicating with people who are hearing impaired for which the mouth needs to be visible
When temporary removal of the face covering is needed to get medical or governmental services
For more information about face coverings visit the Virginia Department of Health.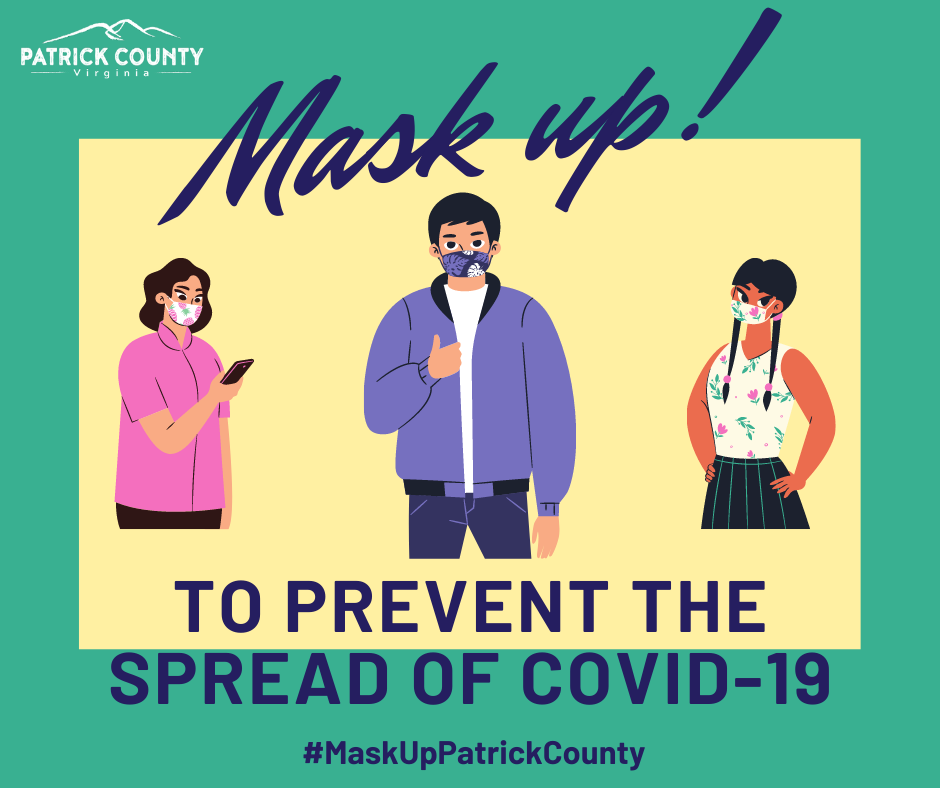 New Restrictions Announced:
The following measures will take effect at midnight on Sunday, November 15:
Reduction in public and private gatherings: All public and private in-person gatherings must be limited to 10 individuals, down from the current cap of 25 people. This includes outdoor and indoor settings.
Expansion of mask mandate: All Virginians aged five and over are required to wear face coverings in indoor public spaces.
Strengthened enforcement within essential retail businesses: All essential retail businesses, including grocery stores and pharmacies, must adhere to statewide guidelines for physical distancing, wearing face coverings, and enhanced cleaning.
On-site alcohol curfew: The on-site sale, consumption, and possession of alcohol is prohibited after 10:00 p.m. in any restaurant, dining establishment, food court, brewery, microbrewery, distillery, winery, or tasting room. All restaurants, dining establishments, food courts, breweries, microbreweries, distilleries, wineries, and tasting rooms must close by midnight. Virginia law does not distinguish between restaurants and bars, however, under current restrictions, individuals that choose to consume alcohol prior to 10:00 p.m. must be served as in a restaurant and remain seated at tables six feet apart.
Modified Stay At Home Order:
As of Monday, December 14th at Midnight:
All individuals in Virginia should remain at their place of residence between the hours of 12:00 a.m. and 5:00 a.m. Individuals may leave their residences for the purposes of:
a. Obtaining food, beverages, goods, or services as permitted in this Order;
b. Seeking medical attention, essential social services, governmental services, assistance from law enforcement, or emergency services;
c. Taking care of other individuals or animals;
d. Traveling required by court order or to facilitate child custody, visitation, or child care;
e. Engaging in exercise, provided individuals comply with social distancing requirements;
f. Traveling to and from one's residence, place of worship, or work;
g. Traveling to and from an educational institution;
h. Volunteering with organizations that provide charitable or social services; or
i. Leaving one's residence due to a reasonable fear for health or safety, at the direction of law enforcement, or at the direction of another government agency.
Business Changes & Updates
Due to the Covid-19 pandemic, some businesses have changed their hours, services, and entry requirements. See below for a list of changes. We try to keep this list as accurate and as up-to-date as possible, however, calling the businesses ahead of time is always recommended to avoid any miscommunication.